36 months warranty for MASTER spindles with unlimited spindle hours
The motor spindles in the "MASTER" series from the DMG MORI component portfolio now excel with a failure rate of less than 1%. By extending the warranty to 36 months the company has now officially declared these impressive benefits part of the programme. 

As the interface between machine and tool, the motor spindles have an enormous impact on the precision and surface quality of workpieces. Their stability and long-term accuracy also have an immediate effect on the reliability and utilisation rate of machine tools. 
Warranty with no runtime limitation 
Reasons enough for DMG MORI not to leave anything up to chance: not in its own spindle production plants in Iga and Pfronten, nor from the point of view of the customer. 

For all new orders, DMG MORI spindles in the "MASTER" series therefore have a 36-month warranty. "And what's more, with unlimited spindle hours", as Alfred Geißler, Managing Director of DECKEL MAHO Pfronten, stresses before going on to point out other design improvements. The rigidity of the spindles has been increased by 15% and the dynamic load rating improved by an impressive 30%. At the same time, thermal displacement has been reduced by 40% with true running accuracy enhanced from 5 to 3µm. 
New performance promise for more than 95% of all DMG MORI machines
A glance at DMG MORI's order statistics indicates the extent of the new performance promise. Over 95% of all the Group's metal cutting machines are equipped with motor spindles from the "MASTER" series. "The majority of these originate from our large production locations in Iga and Pfronten, where respectively 7,000 and 4,000 of these high-tech spindles are produced each year", explains Alfred Geißler proudly.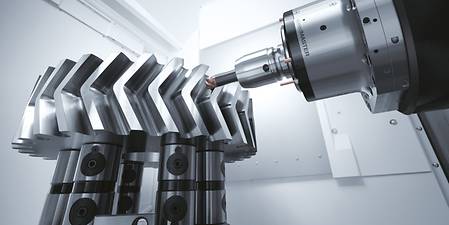 Technology partnership as the basis of success
However, as an experienced technician he also stresses the importance of suppliers to the innovative DMG MORI production process. With regard to the "MASTER" spindles, he points in particular to the new spindle bearings from technology partner Schaeffler Technologies, which have opened up new possibilities for DMG MORI in the structural design of its motor spindles.

New material for spindle bearings
The combination of a generously dimensioned bearing design with the high-performance roller bearing material Vacrodur is what makes these so special. Vacrodur has significant benefits compared to the traditional material 100Cr6, Alfred Geißler tells us. Its high hardness values of up to and even more than 65 HRC are especially outstanding. Overall, this innovative steel exhibits extremely high load carrying capacity, resistance to wear and thermal stability.
New benchmarks in damage statistics
That is why Alfred Geißler is convinced that the current failure rate of 1% can be even further reduced with the new generation "MASTER" spindles. "Currently there are very few spindle failures and these are caused by wear, insufficient lubrication and contamination of the bearing. We will achieve new benchmarks with the Vacrodur bearings by improving all these issues."
Machines with MASTER spindles
Overview of MASTER spindles